DELTA FLOBAG
IMA Ilapak dedicated solution for replacing shrink bags. The most efficient solution to shrink and vacuum processed meat and cheese.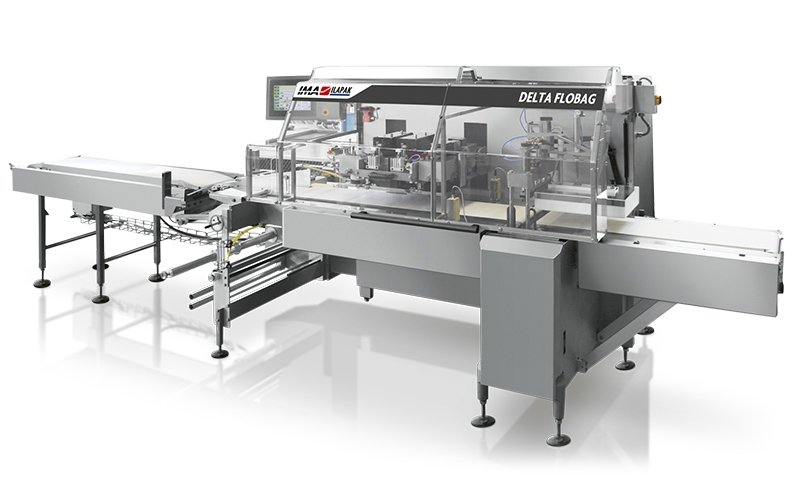 This packaging solution can range from a stand-alone HFFS (Horizontal Form Fill and Seal) flow wrapper with long dwell technology to a complete packaging solution, meeting different market needs. All Flobag flow wrap machines are electronically controlled and equipped with variable cut off length control to minimise and optimise film usage. Stainless steel construction and hygienic design allow the machine to work in harsh and wash down environments. Strong hermetic seals, complete flexibility and rugged, ultra-hygienic full stainless-steel construction characterise the all new Delta Flobag BM, a system designed to allow customers to replace their more expensive pre-made bag solutions with lower cost film from a reel. The exceptionally strong seals created by the full box motion sealing head can easily withstand a vacuum cycle, making this new HFFS (Horizontal Form Fill and Seal) packaging solution ideal for many larger sized fresh meat and cheese products. Available as a top or bottom reel machine, the Delta Flobag BM is particularly suited to lines running a variety of products, such as larger food service blocks of cheese, different sized cuts of primal fresh meat and processed meat, as the packaging machine automatically cuts the pack size to each product's dimensions. One of the most effective ways to extend the shelf life of fresh products is to pack them in a hermetically sealed pack with a modified atmosphere (MAP – Modified Atmosphere Packaging). Our robust Delta flow wrap machines are precisely engineered to ensure hermetic sealing at high speed.
Delta Flobag - for diary Mozzarella cheese blocks in shrinked pillow bag
Delta Flobag - for meat and poultry sausages in pillow bag
want to learn more? leave your contact details to access all the pdf and video content on ilapak.com.